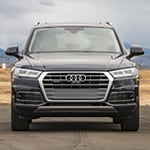 There are several midsize SUVs on the markets, and one of the cars in the market that stands out is the 2020 Audi Q5. The vehicles have been designed with unrivaled craftsmanship and sharp design elements.

Performance and capacity
The car shall handle every terrain and curved road with ease. It is powered by a 45 FSI visceral 2.0-liter engine with 248 horsepower. The vehicle is also known to accelerate from around 0-60 mph per 5.9 seconds. In terms of performance again, it has a seven-speed S dual-clutch with an automatic transmission.

Interior and Exterior Design
The car is designed with sophisticated finishes and massive comfort. It is a mid-sized luxury SUV that caters the passengers with an exquisite body line, LED interior lightings, heated seating surfaces, and auto climatic control. It is one of the most comfortable cars to ride in. The car's comfort has also been derived from the comfortable seats designed in a sporty style.