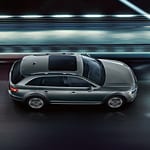 The Audi S5 Sportback has design features that make the vehicle unique.
The first fantastic design feature would be the headlights. They are made from natural LED light, and there are daytime and nighttime functions available. There are fog lights under the headlights, too. The grille is another nice design feature. The grille is shiny-black and extends from the hood of the car and around the headlights down to nearly the ground. In addition to serving as a design feature, the grille is also used as a layer of protection for the driver and passengers.
When it comes to the design of the inside of the car, drivers will have a great telescopic view of the dashboard. This dashboard area will have everything from speed and gear to an entire navigation system. There is also a 10-inch screen in the middle of the dashboard that can be used for things like changing music and replying to text messages.