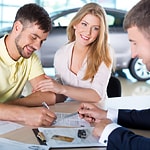 The world of auto financing can be confusing to many buyers. Before you buy your next vehicle at Autobahn USA in Westborough MA, take a few moments to understand the most important financing terms so you can make a more informed decision about your next loan.
Direct lending occurs when you secure a loan directly from a bank, finance company, or credit union. Usually, drivers will find this financing on their own and present the terms to the dealer when they find the vehicle they want. Dealership financing is when you enter into a contract with the dealer where you agree to pay principal and interest over time. Dealership financing offers convenience and sometimes special programs.
Other common terms include APR, which is the cost of credit expressed at a yearly rate and guaranteed auto protection (GAP), optional protection that pays the difference from the amount you owe, and the insurance amount paid if the vehicle is stolen.